We supply domestic cleaners on a daily, weekly and fortnightly basis in Central London, fully trained and experienced. They are fast and fully disciplined around the domestic cleaning tasks and ironing, each one of them is carefully checked and insured, will not go and miss any corner of your property. Same cleaner every time.
Your domestic cleaning service include:
Clean Bedrooms: dust reachable surfaces, change bedding, polish mirrors, empty bins/change bin bags, hoover and/or mop the floor, wipe all skirting boards.
Sanitise Bathrooms: sanitise all reachable surfaces, clean the shower cabin and/or bathtub, sanitise the toilet, clean and polish mirrors, mop the floor, empty bins/change bin bags.
Disinfect the Kitchen: wipe and sanitise all surfaces, do the washing up, clean hobs and splash-back, clean microwave, vacuum and/or mop floor, empty bins/change bin bags, clean all skirting boards. Please mind that oven cleaning is not included in the service, but is available upon request for an additional charge.
Dust off Living room: dust/polish all reachable surfaces, wipe all furniture, empty bins, hoover and/or mop the floor, clean skirting boards.
Wipe Hallways & Staircases: dust off reachable surfaces, wipe skirting boards, wipe bannisters, hoover and/or mop the floor.
Sanitisation is important to eliminate 99% of the germs and viruses in your home!
We can also clean windows from the inside up to a reachable height, organise clothes in wardrobes, water plants, do laundry, hang laundry and even do the ironing.
Prices starts from 17 pounds per hour /weekly regular booking.
Contact us for more information
Ironing and Laundry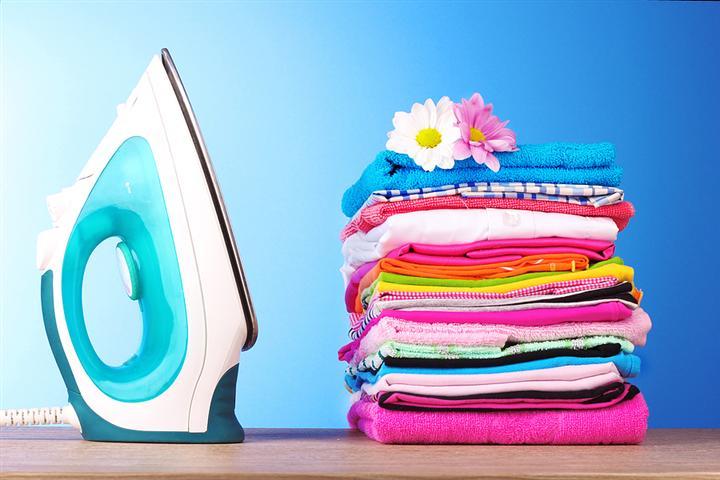 No extra charge for ironing service, no hidden charges, just a simply hourly rate.
Minimum two hours per visit apply.
You can book this service separately or along regular domestic cleaning weekly or bi-weekly. Please note that this service is carried out in clients' homes by our own operatives and we use your own iron and ironing board.
We iron anything from shirts, bed sheets, towels, trousers, skirts, t-shirts, table clothes, underwear to socks, or if we missed anything simply leave it on the of the pile and we will iron it too.
Ironing guidelines :
10 shirts for 1 hour, 5 shirts 30 minutes
8-10 t-shirts for 30-40 minutes
2 sets bed linen 30-40 minutes
10-14 pair of jeans for 1 hour, 6-8 pair of jeans for 30 minutes
Flexible payment options, no minimum term of contract, all we required 3 weeks notice of cancellation.